December 17th, 2018 by Brian Wakefield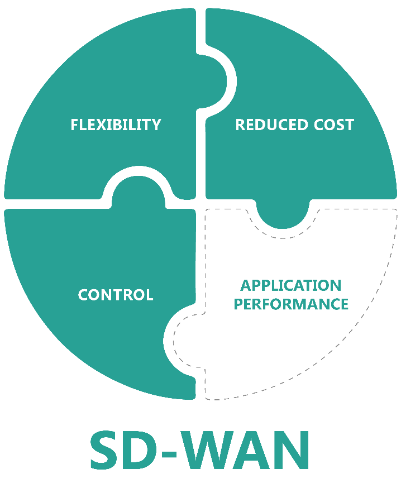 If you operate a multi-location business or depend heavily on cloud-based services such as Voice over IP (VoIP), Hosted EMR, Hosted CRM, Video Conferencing, etc., chances are good you have heard of SD-WAN. The product is a hot topic among CIOs and IT professionals as a means to control the rising costs for expensive private networks while maintaining the functionality of the core applications. This is not surprising, as SD-WAN can sound like the ultimate solution – offering centralized management and complete visibility across a distributed network, simplified deployment that even the non-technical worker can handle, and dynamic WAN selection for high network performance while stabilizing internet service costs. However, with all that said, is the product too good to be true? Let's take a closer look.
What is SD-WAN?
SD-WAN refers to software-defined wide area networking. This term represents the product or feature set that is used to automate the selection of a WAN interface, given multiple WAN options, based on the type of traffic and how the real-time measurement of performance metrics for each connection, compared to the minimum requirements defined in policy. The key feature is the "dynamic path selection," though many have broadened the definition to include features that reduce costs and complexity of management and administration, as well as features to prioritize data types, such as real-time communications, over a single WAN option.
What is driving SD-WAN?
One obvious reason that companies, especially larger multi-location companies, are looking at SD-WAN is ability to cut WAN costs while cutting complexity of deployment and support in a resource-strapped IT department. The main reason most SMB companies are looking into SD-WAN is for performance improvement over the existing internet circuits as they become more and more dependent on Cloud-based applications.
Who are the SD-WAN Providers?
There are three main categories for SD-WAN providers. First would be companies (some count up to 23 different companies) that have formed to specifically provide and develop SD-WAN products. These would include companies like Viptela, Silver Peak, Versa, InSpeed, etc. Second are the security providers, such as Watchguard, Fortinet, SonicWall, Meraki, etc., who have added SD-WAN features to their platforms as a natural fit for the security appliances you already have on your network. Finally are the Internet Service Providers (ISPs) such as Verizon, AT&T, CenturyLink, and others, who have packaged SD-WAN solutions with their offerings. Many of the ISPs have products which are OEM solutions from the SD-WAN providers above.
Which SD-WAN option should you consider?
As in most things in life, there is not one good answer. If you believe SD-WAN could benefit your company it is important to step back and define what you need the service to accomplish and what parameters (number of WAN links, types of traffic, number of locations, etc.) the service must work within. From that you can start to narrow the choices and come to a decision. Each type of provider and the different services provided all have differing strengths and weaknesses.
That said, there are some common pitfalls to avoid. These include:
Expecting too much. Depending on your needs, SD-WAN may not allow you to get rid of all your private network links, so be careful if basing your ROI on that fact. Also, SD-WAN can be very beneficial, but if you have a site using a sub-par WAN link, SD-WAN may not be able to improve your experience.
Buying from the wrong vendor. In some cases, the vendor may not have your best interest at heart. For instance, in many cases the SD-WAN product may directly compete with a carrier's more expensive private networking product, such as MPLS. Be sure the vendor is looking out for your interest.
Not involving your security team. Although SD-WAN does not specifically address security, it is very important that security is considered when designing your wide area network. In many cases, the SD-WAN deployment can use the public internet for transport and it is imperative your data is protected.
Paying too much. Early adopters had no choice but to buy stand-alone solutions from SD-WAN providers, but now that the market has evolved, there are many options where SD-WAN can be deployed over existing infrastructure.
Underestimating indirect costs. When looking at the total cost of ownership (TCO) of the solution, it is easy to focus on the impact to direct costs, but it is important to consider indirect costs, such as managing multiple vendors, ensuring compliance, reporting, etc., as well.
What is the next step?
If you are considering SD-WAN as a solution for your business, we would suggest you call BTS and let one of our Technical Advisors help you navigate the process and make the best possible decision. We have access to all levels of SD-WAN technology from many different providers. If you already have one of our managed firewalls from Watchguard, we may even be able to deploy SD-WAN without any additional costs over your existing firewall service.
Posted in: Managed IT