March 29th, 2022 by Brian Wakefield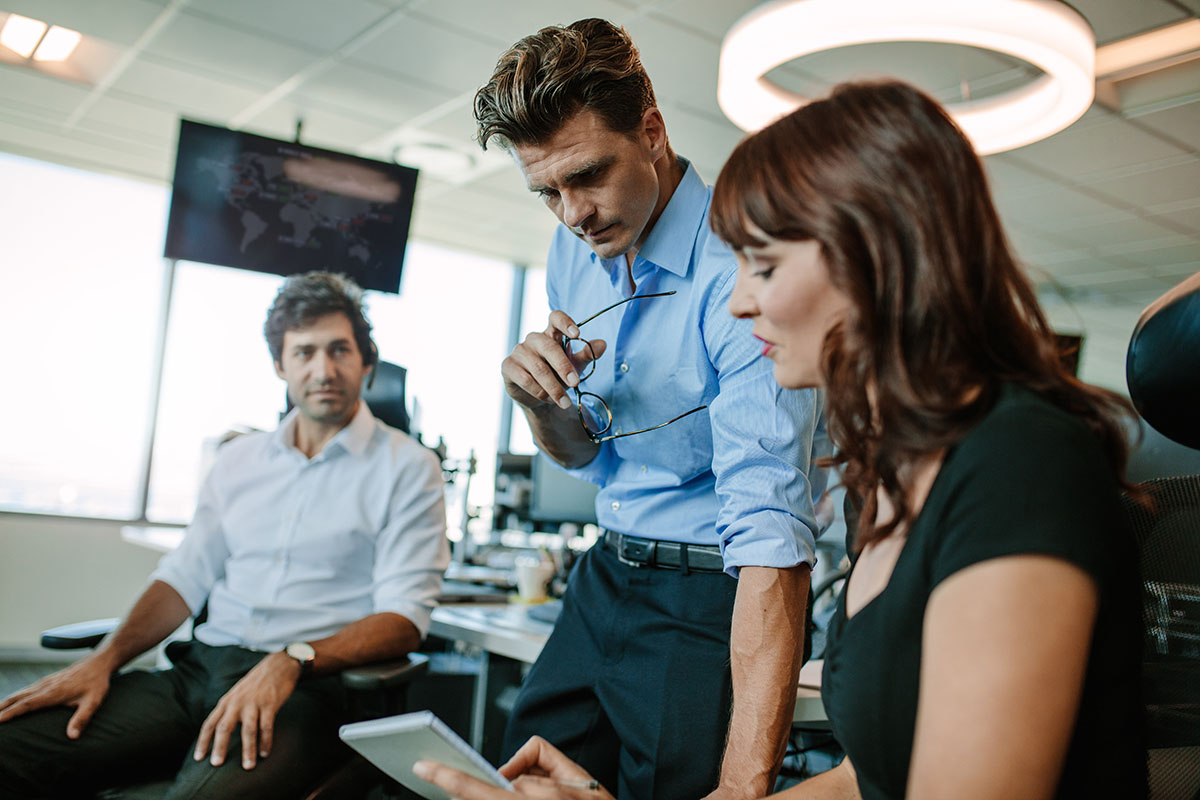 Small and Medium-sized companies have consistently been affected by the ever-changing and challenging market requirements, constantly evolving technologies, all-consuming threats, and reduced funding forced the closure of a slew of businesses. With the pandemic striking us in 2019 and leaving a lasting mark on various industries, this shift has altered everything. As a result, SMBs not only need to work hard but, more importantly, work smart. The best move would be to work with a company that offers managed IT services.
Managed IT services are an excellent option for small and medium-sized businesses (SMBs) with limited resources. A managed IT services provider can help small and medium-sized businesses (SMBs) overcome the difficulties of making large technical expenditures and hiring additional staff to manage in-house operations and security concerns.
What Is Managed IT Service and MSP?
Managed IT services is the practice of outsourcing the job for managing, and predicting demand for a range of processes and tasks, ostensibly for the goal of enhanced operations and decreased budgetary costs through the elimination of directly engaged people.
A managed IT services provider is most typically an information technology services provider that oversees and accepts responsibility for delivering a collection of different services to the business customers either actively or as per the client's demand.
In today's fast-paced IT market, small and medium-sized enterprises with limited staff, resources, and budgets have a significant problem sustaining and managing complicated IT activities.
Upgrade and refresh your technical resources to keep up with the pace. This might have a significant impact on your company's finances. It makes sense to outsource and invest in managed IT services now so that you may concentrate on your core business in 2021 and meet the problems that your firm will encounter as a result of and following COVID 19.
Here are the top reasons why you should invest in managed IT services in 2022:
Access to a High-Quality IT Staff
After two years of terrible times, businesses are eager to get back on track and seek ways to boost production and performance. However, this is more difficult when you have a limited budget.
Business owners may now attempt to alter their employees' job descriptions to accommodate the addition of additional duties. Even though this approach strives to improve organizational performance, it may put a lot of pressure on staff. In addition, employees may find it challenging to maintain high levels of efficiency within their original function as the companies expand the scope of their job.
The level 2 resource, for example, is allocated to deal with a large number of tickets received by the service desk. To provide exceptional customer service and match their requirements, they may have to concentrate and spend more time handling level 1 problems. As a result, level 2 resources may not devote enough time to their original task. As a result, you are putting them at risk of missing deadlines.
An additional benefit of using managed IT services in 2022 is the availability of a dedicated IT management staff. To avoid overwhelming your in-house IT team, consider contracting with a reputable managed IT services company to handle this additional duty.
When you work with a seasoned Managed Service Provider (MSP), you'll have access to a team of IT experts and specialists. In addition, having a Managed Service Provider (MSP) working as an extension of your team allows you to allocate your resources and focus on the most critical aspects of your organization.
As a result, your in-house staff may concentrate on revenue-generating operations and essential business objectives that propel your company ahead and help it reach new milestones.
Optimize Cost-Effectiveness
When it comes to running a small or medium-sized firm, shifting funds around frequently is one of the most challenging aspects of running a corporation. The growing risks that firms will confront in 2022 and reduced overall business efficiency and performance have made managing cost savings increasingly important.
The inability of senior management to deal with these flaws is not uncommon. Trying to find the money to support crucial business sectors might lead to a lot of stress on management. Managed IT services are a smart investment this year. They enable you to save money on IT budget lines, including network infrastructure and the expense of hardware and ongoing maintenance. Still, the benefits are not limited to only these two factors.
In some cases, a managed services provider can tailor their services to meet your firm's unique requirements. In addition, this guarantees a more predictable IT budget. As a result, there are considerable savings to be had by partnering with a Managed Service Provider (MSP). Additionally, it will save money on wages, benefits, and training. All of these will aid in reducing costs even more.
Access to Cutting-Edge Technology
Keep up with the newest technological advancements if you've had to cut back on employees and don't have the funds to invest in new equipment. When it comes to IT services, consider collaborating with a managed IT company.
You will have immediate access to cutting-edge and sophisticated technology if you work with a reputable and competent managed IT service company. Instant update without the substantial expense of purchasing, maintaining, or upgrading technology to manage and operate your firm.
Access to IT support services will guarantee your business's availability and boost productivity and profitability immediately. You can, for example, use cloud servers with an MSP. This will save you money in the long run because you won't have to pay for on-premises servers anymore.
You don't have to worry about maintaining ticketing systems, reporting procedures, or asset monitoring devices either. Another benefit of working with a managed service provider is that they provide regular software updates and upgrades, ensuring that your organization can continue to run smoothly.
It's critical to remember that technology is constantly growing and becoming more sophisticated. Therefore, after the pandemic, a small or medium-sized corporation, especially in 2022, must invest large sums and ensure it has an IT infrastructure that is up-to-date with the changing times. However, if you work with an MSP, you can remain confident that you will receive this upgrade immediately. Therefore, there's no need to spend a lot of money on new technology to keep your company running efficiently.
Another benefit of working with a managed IT services provider is that they are experts in their field and can offer advice to clients on the most up-to-date technologies and solutions, including Backup and Disaster Recovery and Network Security.
All of this is required to protect your most important assets and ensure long-term success. A Managed Service Provider (MSP) will not only ease your IT load but also boost the organization's IT skills, allowing your firm to grow to new heights.
Improved Cyber Security
As the risk of cybercrime increases, so does the need for investing in managed IT services in 2022 to guarantee that your systems are secure.
Company owners must take particular precautions to guarantee the safety of SMB networking infrastructure effectively so they do not become victims of cyberattacks.
Businesses ranging from small to medium have the most at stake in the event of a cyber-attack. On average, organizations with less than 500 employees lose $2.5 million every assault, according to a study. Startups might lose all of their funding if they lose this much money. In addition, small company owners might not bounce back from a cyber assault resulting in a loss of such magnitude.
Eliminates the Hiring Crisis
Investing in managed IT services can assist in filling the gap caused by a lack of IT professionals. Your organization will require competent workers even if you adopt the most cutting-edge technology.
Investing money and energy in educating your present personnel or hiring new experts is the only way to achieve this goal. But, unfortunately, small and medium-sized enterprises confront enormous difficulties because of a scarcity of competent employees and limited financial resources.
So, rather than letting a lack of competent workers affect your company's performance and productivity, work with a reputable IT managed services provider to fill the gap. It is possible to source and place personnel for any IT function through an MSP, and you may quickly access a team working for your company's benefit without having to pay a large salary slip. That's fantastic!
Additionally, through a managed IT services provider, you may relieve your in-house IT staff of the responsibility of constantly monitoring IT operations and networks. A managed services provider ensures the safety of your IT so that your staff may focus on more critical business matters.
Your MSP is a specialist in IT, so you'll be able to focus on what you do best while they take care of IT-related responsibilities.
Provide Active Vigilance
Small and Medium-sized Businesses need to remember that in addition to implementing critical security measures, they must also be aware of the dangers they face. This requires constant monitoring that only an Active IT Team can do. Isn't it interesting that many small and medium-sized businesses (SMBs) are unaware of the challenges they face, making them easy targets?
In addition, phishing is responsible for over 90 percent of all security breaches, and this has increased by 65 percent in the previous year, costing firms an estimated $12 billion. In this scam, the attacker poses as a trusted contact, and the victim unwittingly divulges personal information, financial information, and credentials.
Emails are the most common method of phishing attempts. As a result, it's critical to be aware of potential threats and implement effective defenses like email security gateways and post-delivery protection to minimize risk. Additionally, additional security awareness training is needed to teach your employees about phishing scams and the process of reporting them appropriately.
All of this necessitates a substantial investment in terms of time, money, and human capital. A managed IT service provider is ideal if you lack the resources, finances, or employees to identify and respond to possible risks. In addition, managed IT services providers have a proven track record of delivering the best and most advanced security services to keep your business functioning without the fear of a data leak.
The Right Managed IT Service Provider for You
In terms of Managed IT Services, not all providers are the same. As a result, you should know that not all managed service providers include security in their services. Therefore, you must conduct a thorough study before making a final decision on a service provider. Your best bet is to work with an MSP that provides security safeguards. When working with a trustworthy and efficient managed IT service provider, managed detection and mitigation services and security operations services are all within reach.
Consequently, they'll be able to spot any hidden dangers and take immediate action to address them. When these threats harm your infrastructure or company, they will be ready to enact quality measures. The right MSP will protect your business network to the fullest extent possible. Your managed service provider will take care of everything from streamlining operations to freeing you from a load of constant network monitoring and maintenance.
Enhanced security services provided by a managed services provider are more likely to comply with regulatory requirements, guaranteeing that the company's security measures are up to industry standards.
At BTS Technologies, we take great satisfaction in being one of the most trusted and sought-after IT service providers for organizations of all sizes and various sectors. As their businesses expand and reach new milestones, we work with a broad group of clients that rely on our experts for managed IT services.
Professionalism, devotion, service transparency, and affordability are just a few of the qualities that have gained us the confidence and respect of our clientele. In searching for a reliable managed IT service provider who is willing to go the extra mile, look no further than Managed IT Services. Don't hesitate to contact us and learn more about how we can help you escalate in the market and stay protected and efficient.
We look forward to serving you and establishing a long-term relationship with you.
Posted in: Managed IT