March 26th, 2019 by Brian Wakefield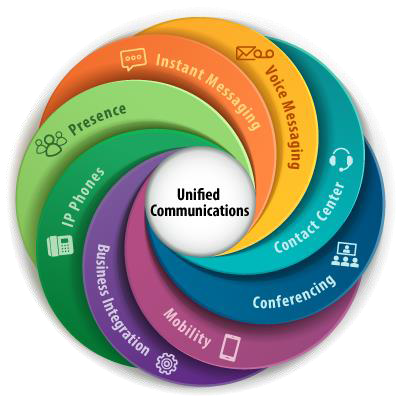 So, what is Unified Communications?
Unified Communications (UC) empowers you with the ultimate communications tool by converging and integrating all forms of communications, networks, systems, and business applications—on any device in any location—resulting in improved productivity and efficiency by enabling you to communicate effectively.
But what does that mean?
For you, it means communicating more effectively. Unified Communications:
Empowers you to find the people you want to contact from rich, detailed directories
Allows you to know where people are and take action based on the results
Encompasses all forms of communication from voice, instant messaging, video, and collaboration
Automates your communications by intelligently utilizing your presence: forward your calls when away from the desk, inform callers you're in a meeting and notify them of your return
Integrates into your business applications and processes and provides your organization new ways to function.
So, what makes up a Unified Communications Solution?
You. As silly as it sounds, it really is all about you. It is about empowering individual users to take control of their communications. By presenting user intuitive interfaces and automating mundane tasks, it allows users to concentrate on their day job.
Identity Management: Since it is all about you, it is most importantly about securely and reliably identifying you. User identification is imperative in creating a reliable communications system. This requires the integration and possible consolidation of a range of personnel data and authentication sources. The end benefit to your organization is a simplification in your employees' personal data and the potential to move to a single point of data entry. Imagine the benefit of entering a new employee's details once and automatically enabling access to all your crucial business applications. You can even program a desk phone, send a welcome e-mail, or enable an employee's security card. With Unified Communications and the right partner – anything is possible.
Telephony: Unified Communications should include a wide range of telephony solutions to meet your needs. These could include traditional digital telephones, IP-based telephones, virtual SIP VoIP lines, traditional analog and digital carrier services, soft-phones, video phones, etc.
Instant Messaging: Instant Messaging provides a new way for users to communicate. You can effectively hold multiple simultaneous conversations, and it provides a level of immediacy that email does not without being as obtrusive as a phone call. With an enterprise grade Instant Messaging system, all your communications are secured and encrypted to protect your security. All messages can be logged for auditing and compliancy purposes. If you choose to federate with external parties, messages between organizations can also be encrypted end-to-end to ensure your privacy is never compromised. With the steady flow of generation Y's into most organizations, it is important to note that Instant Messaging is a common and familiar way to communicate that will become a standard form of communication.
Conferencing and Collaboration: The conferencing and collaboration market has matured greatly over the years, moving from expensive room-to-room video conferencing to streamlined, multiparty, web-based conferencing. There are many options available and each with its own benefits. The best conferencing and collaboration strategy is usually a combination of methods to achieve the best business benefit.
Mobility: Unified Communications is powerful, but needs to be mobile. You should be able to communicate from anywhere and through multiple devices. With current day Unified Communications solutions, you can now communicate with almost the same functionality you have at your desk from an internet café, in a hotel room, or through your mobile phone/device.
Unified Messaging: Often Unified Messaging is used to describe voice mail that is delivered to an email inbox, be it, but, there is so much more to Unified Messaging. Unified Messaging should include items like updating callers of your status, personalized greetings, and interactive voice response.
Devices: So you've now heard how great Unified Communications is, but to provide the best solution you also need high quality devices and end points to ensure you get the highest quality performance and portability. Laptops and desktops can now carry dedicated, high-quality audio. Desktop handsets can be used for the office environment. Inhouse cordless and wireless solutions can be implemented to support users who are not tied to a desk. For remote users you can integrate mobile phones and tablets.
I'm interested. What do I do now?
If you want to talk in more detail, or start the process of designing a full Unified Communications solution, please let us know and we will have one of our technical experts contact you to start the process. Call BTS at (205) 942-6532.
Posted in: VoIP, Managed IT