June 3rd, 2018 by Brian Wakefield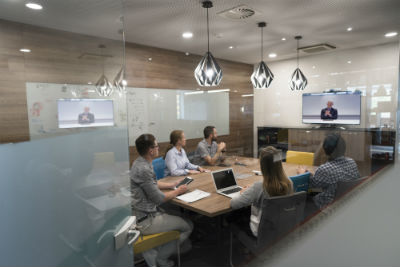 As a multi-site company you know the struggle of getting your disparate teams to seamlessly collaborate on a project. Well what if there was a way that you could essentially erase the distance between them and bring your teams together in one room whenever you wanted? No we still haven't invented a transporter (we've got someone else working on that!) but we can offer a solution that will get your company collaborating faster than you thought possible!
With Lifesize, BTS will be able to bring you a powerful video conferencing platform that will allow you to set up that perfect conference room you've always dreamed of. Experience HD video, super clear audio, the ability to share screens and presentations and join in on meetings with ease.
Lifesize also offers a variety of cameras to suit your needs whether you just want to capture a small conference room or a large auditorium they have powerful cameras that can handle whatever your team needs from them. Plus between BTS and Lifesize themselves you don't have to worry about whether you've got a technology expert on your team. Lifesize is easy to set up and BTS can guide you every step of the way.
Contact BTS today to learn more!
Posted in: News