April 5th, 2017 by William Wentowski
We're offering a limited one month trial offer for our business customers from April through June: a wireless internet Access Point (AP) for your business. Try it out for a month, without any obligations to keep it! We bet you'll be happy with the secure and fast internet for you and your customers. They can surf online while sipping on their coffee or eating a sandwich, while giving you valuable analytics.
Many small businesses use simple, cheap wireless Access Points for their customers. But as soon as more than a handful of people sign on, you'll run into bandwidth issues and slow connections. Security is usually limited and opens you up to hackers and cyber threats. In our experience, its best to have at least 2 APs, so that the connection is extending across your entire facility - not just the back office. We can show you a map of internet connectivity across your business - one AP just won't cut it!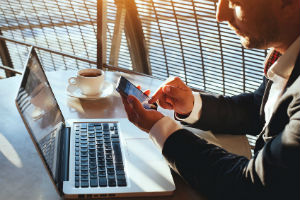 As a business, you need to be sure that your wireless connection is fast and secure. You don't want just anyone connecting! One of the great features of these APs is the ability to limit session times, so customers aren't endlessly using your wireless without purchases. You can also gather valuable analytics and capture information on internet usage while they surf the web. Display upcoming events and specials on the log in page, and gather sign up email addresses for marketing purposes. We can advise you on great marketing opportunities to help pay for these APs and bring in more business.
If having a wireless internet installed helps you sell just 5 more drinks a month, it is showing a good return on investment. If the trial doesn't work out for you - no problem. We'll come by and pick up the AP, no strings attached. Have we got your attention? Contact us for more information.
Posted in: Managed IT, News