September 30th, 2017 by William Wentowski
Alexander Graham Bell
"DO---YOU---UN---DER---STAND---WHAT---I---SAY?" Below is an excerpt from Alexander Graham Bell's March 10, 1876, laboratory notebook entry describing his first successful experiment with the telephone.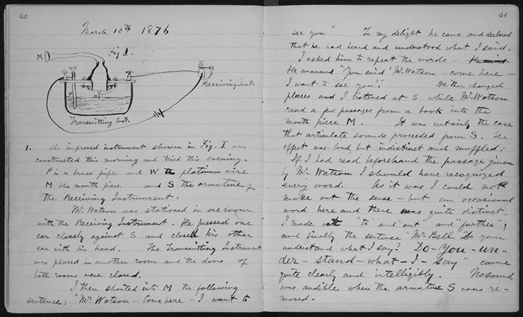 Everyone knows that Alexander Graham Bell is credited with patenting the first practical telephone and founding the American Telephone and Telegraph Company (AT&T). You may also know that he was the creator of the first wireless telephone, the "photophone"—which transmitted sound via a beam of light rather than electrical wires—and the telegraph. But here are some other interesting facts you may never have heard about Alexander Graham Bell: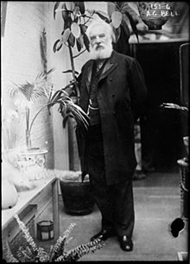 Born in Scotland, Bell also lived in Canada and finally in the United States. He became a naturalized American citizen in 1882. He firmly declared, "I am not one of those hyphenated Americans who claim allegiance to two countries."
He always refused to have a telephone in his study, considering it an intrusion on his real work as a scientist.
When he was twelve, Bell's mother began to lose her hearing. Bell responded by learning a manual finger language so he could sit next to her and silently tap out the rest of the family's conversations for her benefit. As an adult, Bell worked extensively with the deaf. One of his most famous pupils was Helen Keller. His wife, Mabel Gardiner Hubbard, was deaf, and the inspiration for much of his work.
As teenagers, Bell and his brother built a very realistic automaton head. When they adjusted its lips and forced air through its windpipe with a bellows, it appeared to say "Mama." Onlookers were amazed. Encouraged by their success, Bell then taught the family dog, a Skye Terrier, to say "How are you, Grandma?" Actually, he would just reach into the dog's mouth and manipulate its lips and vocal cords as it growled continuously, but again, his audience was amazed.
While living in Canada, Bell learned the Mohawk language and translated its unwritten vocabulary into Visible Speech symbols. For his work, he was awarded the title of Honorary Chief and participated in a ceremony where he donned a Mohawk headdress and danced traditional dances.
Bell's wedding present to his bride, Mabel, was to turn over 1,487 of his 1,497 shares in the newly formed Bell Telephone Company. He also agreed to change the spelling of his nickname from "Aleck" to "Alec."
Bell had patents not only for the telephone, photophone, and telegraph, but also for aerial vehicles, "hydroairplanes," and selenium cells. He invented prototypes for the metal detector, audiometer, and composting toilet, among countless other things. Bell would fall asleep at night reading the volumes of the Encyclopedia Brittanica, voraciously searching for new fields of interest to explore.
Posted in: News