October 7th, 2017 by William Wentowski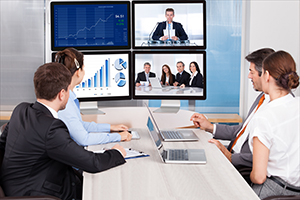 The way we do business today is ever changing, office arrangements are less formal, with staff working remotely or while mobile. In order for businesses to remain connected and productive, video conferencing has become commonplace in the office. Not only for day-to-day interactions, video conferencing is now curbing the expensive cost of travel to promote products or deliver training. Robust video conferencing capabilities can connect offices around the globe, allowing decision making to be instant and collaborative.
We offer LifeSize video infrastructure products, which allow high definition video recording capability, enable large multiparty video calls, and allow your IT department to manage bandwidth and other functions.
LifeSize is streamlined, easy-to-use and can drive widespread usage in any environment whether it be conference room, home office, or mobile device. It delivers high-quality experience, superior flexibility, at a low total cost of ownership. Learn More »
Posted in: Managed IT