Technology at a Glance
Using Technology to Reduce Your Business' Carbon Footprint
- Terry Mayfield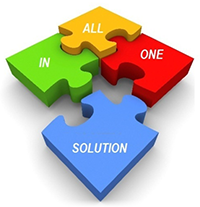 What is your business doing to reduce its carbon footprint?
Use Technology, Go Paperless — Take advantage of online technology to reduce the amount of printing. Accessing information through a portal or a secure site can allow multiple people to view documents without printing multiple hard-copies. Use electronic billing to reduce paper waste. Convert paper files to electronic documents, making filing and searching much easier. A good scanner, a document management program, and a reliable storage system can be used to effectively go virtual.
Traditionally, businesses have spent money, time, and space maintaining paper business records.  In recent times, many business owners have cut costs and improved their operational efficiency by going paperless.  If this is something you've considered or have already implemented, check out these this quick guide to going paperless.
Consider Potential Benefits and How They Would Affect Your Business
Cutting Costs — Going paperless has the potential to cut certain costs from your budget. You'll no longer need to pay for the space and equipment necessary for keeping old documents.  If you've been storing a lot of files, that amount can certainly add up. Paperless companies have unlimited storage space for only a tiny fraction of the cost. You'll also reduce the amount of man power needed to maintain such documents. This means you can use less employee resources managing old documents or forego the hiring of additional employees that would do such work. In addition to these larger costs, you'll save small amounts through the use of everyday tasks like using email as opposed to mail.
Improving Your Operability — Paperless operation often means making the most out of your money.  If done correctly, going paperless can speed up your business' efficiency and improve its overall operability. A paperless business has all documents in one place; they are all maintained virtually and can be pulled for viewing, comparison, or printing very easily. If a client requests a certain record, pulling up and emailing a document is a much quicker solution than finding your hard copy and mailing it. As for management, eliminating the need for your employees to spend time and effort maintaining hard copies means that your employees will be able to spend more time focusing on other projects.
Minimize Risks — Although it may be the appropriate choice in certain situations, relying on paper records comes with certain risks. In case of an emergency, such as a fire or a burglary, having your files already backed up virtually will reduce what your overall loss. It is easier to lose paper documents for less dramatic reasons as well - filing errors or common forgetfulness can cause a business to lose time and money finding or recreating those documents. Maintaining virtual records minimizes this issue.
Going Green — The movement of businesses "going green" has certainly taken hold over the last decade. By going paperless, a business, at least in part, can join that effort. You'll be saving mass amounts of paper through electronic documentation as well as other storage equipment such as folders and storage units. Energy savings are just as important and can be found by minimizing the use of print and copy machines. Supporting the green movement helps the environment and shows clients that your business cares about affecting it in a positive way.
Try Using These Small Changes and Tips to Get Your Business Started
Scan and save all paper documents as a PDF to your chosen virtual destination — Management software programs allow you to save documents, link emails, and integrate calendars in one easy-to-use place.
Use an electronic program to maintain billable time records.
Use instant messaging programs to leave messages or communicate electronically with colleagues.
Maintain hard copies of only what is absolutely necessary. Going paperless doesn't mean that you'll no longer need to have certain documents in paper form.
Send electronic faxes instead of paper faxes.
Give employees or clients CDs or electronic attachments instead of bound folders or cumbersome documents.
Customers are Asking About...
- David Dick
Do you still have an Operator "Blinky-Box"?
Telephone systems have traditionally had Operator Consoles with Direct Station Selection (DSS) Units. These helped to process calls by giving the Receptionist a single key to press to transfer calls to a station user. These units also showed you if someone was on the telephone. While these two capabilities were very helpful, but only one person in the office had a "blinky-box," and you never knew "real status" of the user on the other end.
IP Communications to the Rescue!
New IP systems have desktop tools that provide "Presence" information on system users. You can have a small or large window on your PC showing the people in your group or a larger window with the entire office displayed. You can tell if someone is in the office, out of the office, on the phone, away from their desk, away from the office, In Do Not Disturb, etc. You can even see special notes that can be added by each extension user relating to what, where and why.
Streamline the communications in your office and make your day more efficient. Give us a call and let BTS show you how to make it happen in your office.
Something Different and Interesting!
- David Dick
Here is a link to an interesting magazine and website that is about as far from technology as you can get. 
Take a look at The Backwoodsman.  Their mission is to preserve the "old" ways of life and place an emphasis on primitive survival and the American Frontier.  You will find articles about Teddy Roosevelt, building a cabin, fly fishing, baking bread, and lots of things in between.  If you are looking for a change of pace or brief relief from the hectic day take a look.
http://www.backwoodsmanmag.com/
---
Telephone Tips
How Do I...?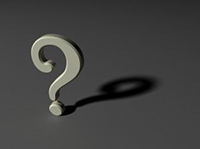 How do I program speed keys on my phone?
If you have an NEC IPK II or SV8100 phone system, you can program any available buttons as speed dial keys. Just follow these steps:
Program an Extension Number to a Key
Press the Speaker button while your phone is on the hook.
Dial 751.
Press the One-Touch key you wish to program.
Dial 01.
Enter the extension number you wish to assign to the key.
Press the Hold button.
Press the Speaker button.
Program an Outside Number to a Key
Press the Speaker button while your phone is on the hook.
Dial 751.
Press the One-Touch key you wish to program.
Dial 01.
Enter 9 and the outside number you wish to assign to the key.
Press the Hold button.
Press the Speaker button.
If you run into any problems, or if you have a different kind of phone system, call BTS Service at (205) 290-8301 for assistance. You may also email BTS Service at service@askbts.com.
---
Data Tips
How do I...?
How do I send an Out of Office Message using Outlook 2010?
Click Tools.
Click Out of Office Assistant.
Click Send Out of Office auto-replies.
Check Only send during this time range and select the start and end dates and times.
Click the Inside My Organization tab. Enter the message you wish to send to people within your organization.
Click the Outside My Organization tab. Enter the message you wish to send to people outside your organization.
Click OK.
---
End User Training Opportunities
Upcoming Webinars and Onsite Training
At BTS, we know that any technology is only as good as your ability to use it. To this end, BTS will be offering several webinars this quarter.
At BTS, we know that any technology is only as good as your ability to use it. To this end, we offer webinars on all manner of products to help our customers get the most out of their technology investment. BTS will be offering several webinars this quarter. Each webinar will be offered on a Tuesday afternoon at 3:00 p.m., Central Standard Time, and will last no more than thirty minutes. To reserve your space or to request additional information, please email Kim Reynolds at kimr@askbts.com. If you would like to suggest a topic for one of our future scheduled webinars, let us know!
Tuesday, January 7, 2014
Tuesday, January 21, 2014
Tuesday, February 4, 2014
Tuesday, February 18, 2014
Tuesday, March 4, 2014
Please keep in mind that BTS also offers both web-based and on-site training on an as-needed basis. Whether you need to familiarize a new employee with your phone system, would like a quick refresher class for current employees, or need pointers on a specific topic, BTS is happy to help. Please email kimr@askbts.com to discuss or to schedule a training session specifically tailored to your needs.
---
You Need to Know!
Congratulations to BTS' new MCSEs!
- Brian L. Wakefield Vice President/Operations
BTS would like to congratulate our team members who recently achieved the Microsoft Certified Solutions Expert (MCSE) certification.
The team members who have achieved this are Rick Corbett, Larry Satterlee, Brett Wakefield, Roger Wentowski, and William Wentowski. As of the writing of this article we have one additional team member, Jason Thompson, who is one test away from achieving the certification.
We are very proud of this group of individuals as the work and dedication of the group in achieving this certification shows a deep commitment to personal growth and development. The group spent many hours of their time studying for the five required tests. Each test took weeks of preparation and the group held study sessions on Tuesday and Thursday evenings for many months as they worked through the process.
The MCSE certification focuses on the ability to design and build technology solutions, which may include integrating multiple technology products and span multiple versions of a single technology, whether on-premises or in the cloud. This certification expands the depth and breadth of knowledge in the company and provides a stronger technical foundation for our customers as we move forward.
Once again, congratulations!
Employee Spotlight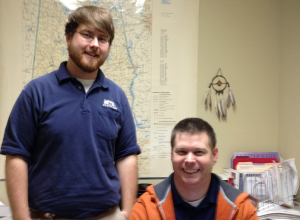 Branch Operations Manager Mark Rhodes has been at BTS since...
Branch Operations Manager Mark Rhodes has been at BTS since 2005. Originally from Texas, Mark has a B.S. in Information Systems Management from Amridge University in Montgomery. Mark is an experienced trainer who has worked with ShoreTel, NEC, Zultys, and many other phone and voice mail systems. He also does software development using C#. When he is not at BTS, Mark teaches Bible study and enjoys spending time with his wife Jennifer and beautiful 18-month-old daughter. He is in the process of composing an original rock opera, Pirates of the Digital Age.
Mark is pictured here with Field Engineer Brett Wakefield. The spotlight will be on Brett in next quarter's newsletter!
Job Opportunities
At BTS we are always interested in talking to industrious, enthusiastic people with a passion for the technology industry.
At BTS we are always interested in talking to industrious, enthusiastic people with a passion for the technology industry. If you think you might be a good fit for our excellent team, please feel free to send your resumé to hr@askbts.com.
If there is a job opportunity at your organization that you would like us to advertise in our newsletter, please let us know!
---
All About BTS
About Us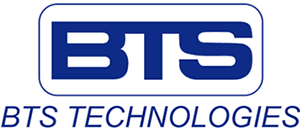 Business Telephone Systems (BTS) was founded in 1976 just as it became legal for private organizations to buy and sell telecom equipment in the United States.
During this time, we discovered the real service was not in selling telecom equipment, but in helping our customers use the technology. As technology has changed, so have we. BTS changed its name to BTS Technologies to better reflect our focus of providing data network and voice solutions.
BTS Technologies provides superior technology and skill to our customers in need of data and voice systems. Our commitment to our customers forged lasting partnerships, and for over three decades it has been our profound pleasure to provide custom solutions that make our customers more successful.
We bring further value to our customers though our partnership with Technology Assurance Group (TAG), allowing BTS Technologies to leverage $500 million in purchasing power. In turn, our customers receive the best value on equipment, carrier services, and programs to help control technology costs.
BTS' Philosophy and Mission
BTS Technologies, Inc. (BTS) was founded on the philosophy of maintaining a profitable business by providing the best in telecommunication systems and services to our customers.
The stated purpose of our company not only allows us to provide short-term answers to our customers' communication needs, but also affords us a longevity unsurpassed by the telecommunication industry in our region. We strive to provide quality materials, trouble -free installations, and total communication services at a fair and competitive price that will allow us to maintain our business with quality employees. This policy insures the ongoing system service and support that you deserve and expect.
BTS Technologies, Inc. is located at 311 West Valley Avenue, Birmingham, Alabama 35209. For more information on BTS, please call (205) 942-6532 or visit www.askbts.com.
Important Contact Information for BTS
Website: www.askbts.com
Operator: 205-942-6532
Service Desk: 205-290-8301 or service@askbts.com
Sales: (205) 942-6532
Facebook: www.facebook.com/BTSTechnologies
Twitter: https://twitter.com/BTSTechnologies
---
What Do You Think?
If you have any questions or comments, or if there is anything you would like to see in our newsletters, please don't hesitate to contact us! Please call or email Kim Reynolds at 205-290-8430 or kimr@askbts.com.