BTS Technologies Newsletter for September 2014
---
Telecom In Europe!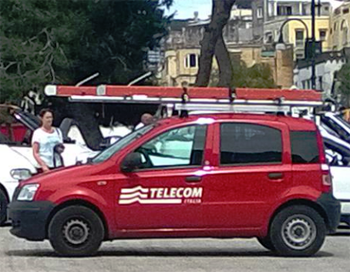 BTS Field Engineer Brett Wakefield snapped this photo of an Italian telecommunications company's
vehicle during his European vacation this summer.
Do you think he was getting homesick?
---
Referral Groups and Building Effective Ones
– William Wentowski
Just about everyone prefers to do business with somebody they know. Anyone who has been in sales understands that a strong customer relationship does more for their sales than six months' worth of cold calls. The issue, of course, is building that relationship in a timely fashion in order to make the sale. This is where referral groups come in to play.
Every salesperson has a "referral group", but most do not have effective ones. There is always the one person who has traded you leads that are no better than a cold call, or hasn't even brought a lead to the table in years. These aren't referral groups; they are a drain on your time and ability to live life on your terms.
There are a multitude of tips about building an effective referral group, but the primary tip this quarter is hiring. Virtually every job interviews potential hires and your referral group should be no different! You want people who share the best possible appointment (meeting with THE decision maker) and are out there trying to do that all day every day. A few of the people BTS Technologies looks for are commercial insurance, payroll companies, and office equipment sales. These people need to meet with the same people we do to generate sales.
These salespeople need to be highly motivated and willing to learn! If a referral cannot talk intelligently about your business, how can they possibly recommend your services to one of their clients in need? Simple, they cannot. At best they will deliver a cold call quality lead, at worst they will so bungle an introduction (if they even provide one) that you have no chance of succeeding! They have to be willing to understand your business as well as you do, and you theirs.
Where do you find these people? Here is the quick bulleted list:
Differentiate-Provide needed solutions, and be stubbornly optimistic (it attracts the go-getters).
Research-Pick an industry and do your homework, then meet with them and explain your intentions.
Get out of the office-Attend networking events, non-profit board meetings, lectures. These are the places to find motivated people.
Join a non-profit or chamber-Mostly look towards being on and knowing the people on boards.
STOP handing out business cards-It's a symbol and every one of them should be important. It is not about quantity of cards, but quality (get to know people who you give cards to).
Look at your base-Ask customers how they are doing, if they have ANY challenges. This is where you can recommend someone in your referral group.
A proper referral group should easily add five or more sales a month. If you would like to learn more about how BTS Technologies puts together referral groups and succeeds in sales, contact William Wentowski via Williamw@askbts.com or 205-290-8460. BTS also has a white paper on how to build a referral group.
---
Technology at a Glance
NEC Announces the UNIVERGE® SV9100 System featuring DT400 and DT800 Terminals
– Brian Wakefield
This month NEC Corporation of America announced the release of the UNIVERGE® SV9100 Communications Server and the UNIVERGE® DT400 and DT800 family of terminals.
Successful businesses come in all sizes, but all successful businesses have one thing in common: great teamwork. In the age of increasingly disparate working locations and job complexity, communications play a crucial part in every organization's success.
NEC's UNIVERGE SV9100 is designed to be the unified communications (UC) solution of choice for small and medium businesses (SMBs) who don't want to be left behind. Reliable and adaptable, the SV9100 is built on cutting-edge technology that supports voice, unified communications and collaboration, unified messaging, and mobility out-of-the-box, all the while remaining easy to manage. The SV9100 can be configured to support very small businesses to ones with up to almost a thousand employees. The SV9100 is offered in two variations to meet different needs of a business. The SV9100E is for a small to medium business that wishes to take full advantage of what IP and Unified Communications has to offer. The SV9100S is for a small to medium business that just wants the basics but also wants a system which will migrate to the SV9100E when ready.
The new DT400 and DT800 family of terminals include features such as an LCD screen to deliver powerful applications such as presence, Caller ID, screen pops, and XML interfaces for industry-specific functions. The advances terminals have evolved into "smart devices" and are flexible, simple to use, and easily customized to display information that users need to excel at their jobs. That is why NEC refers to the DT series as "digital terminals" (DT400) and "IP terminals" (DT800) as opposed to "phones."
This new family of terminals delivers enhancements from the previous generation including thinner design, improved visibility of line/feature keys, enhanced visibility of dial pad, and increased size of message waiting indication. In addition, the terminals maintain the most valued features from the previous generation, including both Desi and Desi-less mode options, superior audio quality, handset/hands-free speakerphone, backlit displays, multi-party conferencing, and multi-languages options.
There are currently promotional discounts available for system upgrades and migrations to the SV9100 platform. If you would like to find out more about the system or discuss a possible upgrade, please call the BTS office and speak to one of our account representatives.
BTS is Now an Official Dealer for Xirrus, Inc.

BTS is now an official dealer for Xirrus, Inc.!
Xirrus is a California-based company that designs and sells wireless networking products. They deliver right-sized, upgradable wireless solutions that require less equipment, provide predictable performance, and ensure superior security-enabled mobility for your business.
If you are interested in learning more about Xirrus high performance wireless networks, call BTS and ask to speak with one of our account representatives.
Telephone Tips: Leaving Voice Mail Messages
Avoid using your speakerphone when you leave a voice mail message.
Plan what you are going to say in advance.
Give your name, company, and telephone number.

Say your name especially clearly, especially if it's not a common one, and spell it if necessary.
Slow down when giving your telephone number. Say the numbers slowly and pause somewhere in the sequence of numbers. Be sure to include your extension number if applicable. You may wish to repeat your number.
You may want to give this information at both the beginning and the end of the message so the recipient won't have to replay it.

Provide a quick summary of the reason for your call.
Let the person know whether your call needs to be returned and whether there is an optimal time to return your call.
If the voice mail system allows you to listen to your message before sending it, do so to make sure your message is clear and communicates your needs.
Data Tips: Do You Know the Alphabet?
– Kim Reynolds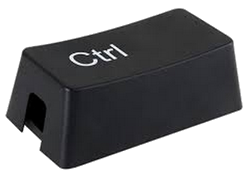 Below is the complete Alphabet of Keyboard Shortcuts for Microsoft Word!
| Press... | To... |
| --- | --- |
| Ctrl + A | Select all. |
| Ctrl + B | Bold the selected text. |
| Ctrl + C | Copy the selected text. |
| Ctrl + D | Open the Font window. |
| Ctrl + E | Center the selected text. |
| Ctrl + F, G, and H | Open the Find and Replace window. |
| Ctrl + I | Italicize the selected text. |
| Ctrl + J | Justify the selected text. |
| Ctrl + K | Create a hyperlink. |
| Ctrl + L | Left-align the selected text. |
| Ctrl + M | Indent the selected text. |
| Ctrl + N | Create a new document. |
| Ctrl + O | Open a file. |
| Ctrl + P | Open a print preview of the current document. |
| Ctrl + Q | Remove paragraph formatting. |
| Ctrl + R | Right-align the selected text. |
| Ctrl + S | Save the document. |
| Ctrl + T | Adjust the tabs. |
| Ctrl + U | Underline the selected text. |
| Ctrl + V | Paste the selected text or object that's in the clipboard. |
| Ctrl + W | Close the document. |
| Ctrl + X | Cut the selected text. |
| Ctrl + Y | Redo a Ctrl + Z undo. |
| Ctrl + Z | Undo a change. (This can be pressed multiple times to undo multiple changes.) |
---
End User Training Opportunities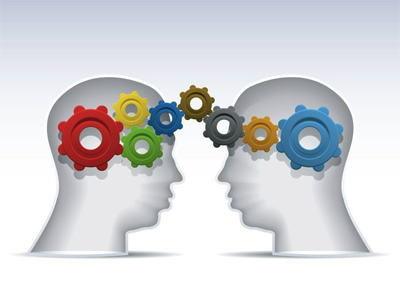 Upcoming Webinars and Onsite Training
– Kim Reynolds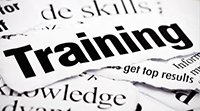 At BTS, we know that any technology is only as good as your ability to use it. To this end, we offer webinars on all manner of products to help our customers get the most out of their technology investment. BTS will be offering several webinars this quarter. Each webinar will be offered on a Tuesday afternoon at 3:00 p.m., Central Standard Time, and will last no more than thirty minutes. To reserve your space or to request additional information, please email Kim Reynolds at kimr@askbts.com. If you would like to suggest a topic for one of our future scheduled webinars, let us know!
| | |
| --- | --- |
| October 7 | Call Handling with ShoreTel |
| October 21 | Conference Call and Web Conferencing Etiquette |
| November 4 | What is a PRI? DIDs and Park/ Page/Pickup Explained |
| November 18 | The Power of the Auto Attendant |
| November 25 | NEC VM8000 InMail Voice Mail Tips |
Please keep in mind that BTS also offers both web-based and on-site training on an as-needed basis. Whether you need to familiarize a new employee with your phone system, would like a quick refresher class for current employees, or need pointers on a specific topic, BTS is happy to help. Please email kimr@askbts.com to discuss or to schedule a training session specifically tailored to your needs.
---
You Need to Know!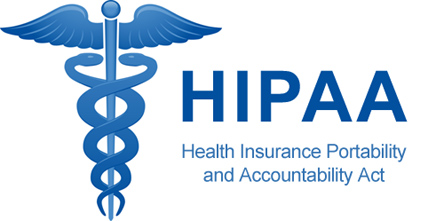 BTS Cares about HIPAA Compliance!
All twenty of BTS' employees are now certified in HIPAA Awareness for Business Associates. Each of us successfully completed a course covering Transactions, Code Sets, and Identifiers, Privacy, Security, and ARRA/HITECH and the Omnibus Rule. In addition, all eight BTS Field Engineers, along with HIPAA Compliance Officer Kim Reynolds and HIPAA Security Coordinator Mark Rhodes, are now certified in HIPAA Security, with in-depth knowledge about Administrative, Physical, and Technical Safeguards and their implementation. If you would like to discuss this with a BTS representative, please give us a call at (205) 942-6532.
Employee Spotlight

Field Engineer Robbie Batting has been with BTS since 2005. He is a CCNA (Cisco Certified Network Associate) and works on Zultys, ShoreTel, and NEC phone systems, among others. Robbie is also BTS' LifeSize videoconferencing guru.
Robbie lives in Springville with his beautiful wife Jennifer and two adorable little girls, Maddie Grayce and Sadie Brooke. He enjoys spending his free time playing golf and softball and umpiring baseball.
Robbie is pictured here with Field Engineer Jason Thompson. The spotlight will be on Jason in next quarter's newsletter!
Job Opportunities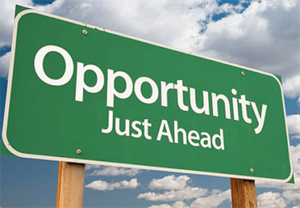 At BTS we are always interested in talking to industrious, enthusiastic people with a passion for the technology industry.
At BTS we are always interested in talking to industrious, enthusiastic people with a passion for the technology industry. If you think you might be a good fit for our excellent team, please feel free to send your resumé to hr@askbts.com.
If there is a job opportunity at your organization that you would like us to advertise in our newsletter, please let us know!
Our Latest Press Release
Only 10% of Hospitals & Clinics Keep Their Patients' Data Safe. BTS Shares Startling Findings and Educates Healthcare Providers on Solutions.
BTS Technologies, Inc., a leader in unified communications, announced today that the company is sharing a startling fact that has many people questioning the data security practices of hospitals and clinics everywhere. According to privacy researchers at the Ponemon Institute, "Recent numbers show 90% of health care organizations have exposed their patients' data -- or had it stolen -- in 2012 and 2013." The implications of this research are far-reaching and unsettling for most consumers. However, unified communications and IT security providers, like BTS, have devised many solutions to help curtail this epidemic.
Most attacks are the caused by hackers who want to acquire medical records due to their extreme value. The information in medical records (name, birthdate, addresses, phone numbers, medical history and social security numbers), can be easily used for identity theft, fraudulent medical billing or acquiring prescriptions to resell on the street. Hackers can use the medical information to accomplish just about anything once acquired. This flaw in IT security is not a series of isolated incidents but an incredibly widespread problem now affecting millions of people across the nation.
In August, Community Health Systems reported that Chinese hackers had allegedly stolen a staggering 4.5 million patient records in what could be the largest breach of patient data to date. The company is treating the breach as a violation of HIPPA, even though the hackers didn't gain access to medical records (only names, addresses, birth dates, phone numbers, and Social Security numbers were stolen). The breach happened between April and June this year, and was discovered in July. According to cyber-security firm Mandiant, which helped investigate the breach, the group responsible for the attack is known as "APT 18," and may have links to the Chinese government.
The majority of hospitals and health organizations are using outdated technology on a single network making the job of hacking into networks even easier for criminals. IT security is often a large oversight for healthcare organizations because their objective is to save lives. Unfortunately, lack of internal IT expertise and outdated technology plagues the healthcare industry making it an easy target.
Roger Wentowski, President of BTS, commented, "The challenge here is that doctors are inherently more interested in saving lives, instead of upgrading their IT security. This a great thing for society and we believe that's exactly what doctors should be focused on! The only thing is that IT security must be addressed too. Over the years, we've learned exactly what it takes to protect health organizations and we love being a part of the solution to this problem. It's unfortunate when something like this happens but it brings much needed education to the issues at hand. We consider it our duty to educate our market and provide doctors with the technology tools they need to do their jobs, protect their patients and spend their time focused on saving lives, instead of firewalls. That's our job."
---
Make Me Smile!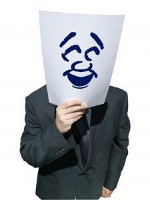 Below is the only known photo of the fully functional banana phone, created by Field Engineer Jamey Wynn, which was mentioned in last month's newsletter. Alas, the Zultys ZIP 57i phone has since been restored to its original bananaless state, but the banana itself is safely preserved in BTS' freezer.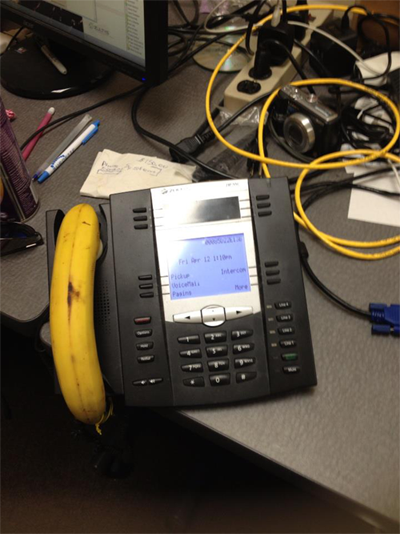 And finally, here is a contribution from our newest Field Engineer, Cory Simpson!
---
What Do You Think?
If you have any questions or comments, or if there is anything you would like to see in our newsletters, please don't hesitate to contact us! Please call or email Kim Reynolds at 205-290-8430 or kimr@askbts.com.
---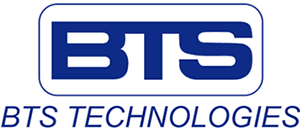 Important Contact Information for BTS
Website: www.askbts.com
Operator: 205-942-6532
Service Desk: 205-290-8301 or service@askbts.com
Sales: (205) 942-6532
Facebook: www.facebook.com/BTSTechnologies
Twitter: https://twitter.com/BTSTechnologies