Business Buoy
As your trusted technology partner since 1976, BTS Technologies is proud to offer a fully managed suite of data products and services. From email solutions, to data back up and disaster recovery, help desk, and hands on networking, allow BTS Technologies to throw you the Business Buoy, your lifeline to business continuity.
Business Buoy
BTS Business Buoy is a suite of professionally managed services designed to secure, maintain, and monitor your mission-critical information.
Learn More »
Sleep Easy
Business Continuity Solution.
Learn More »
Managed Data Service Plans
BTS has a Plan to match your IT needs.
Learn More »
Hosted Exchange
The power of Microsoft Exchange Server without the expense of maintaining an in-house server.
Learn More »
BTS PC & Server Support
Highly skilled technicians providing a very valuable service
Learn More »
BTS Data Backup
Valuable data deserves more than just a tape.
Learn More »
Training Schedule
| | |
| --- | --- |
| IPK | Friday, January 15, 2010, 10AM |
| IPK II | Friday, February 5, 2010, 10AM |
| SV8100 | Friday, February 26, 2010, 10AM |
| ShoreTel | Friday, March 12, 2010, 10AM |
| VMP/LX Voice Mail | Friday, April 9, 2010, 10AM |
| InMail | Friday, April 23, 2010, 10AM |
| Operator Etiquette | Friday, May 7, 2010, 10AM |
Please contact Kim Reynolds at (205) 290-8430 or KimR@askbts.com if you have questions or are interested in attending a webinar.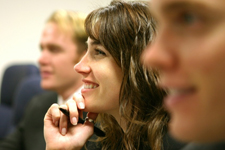 Upcoming Lunch and Learns
Business Continuity for Your Data Network
Presented by Roger Wentowski, III
January 21, 2010 at BTS Technologies
11:30AM to 1PM
Lunch will be served at 11:30AM
ShoreTel Gives Top Three Reasons
for Unified Communications in 2010
Unified Communications - (definition) the integration of multiple forms of business communications and processes on one platform to enhance communications and ease the use of technology.
Example: A single user interface for email, video chat, voicemail, fax and call control.
UC can help your company deliver great customer service.
Customers are notoriously fickle, and delighting customers has never been more difficult than now. Customers will only do business with companies that deliver exceptional customer experience, and UC is a vital tool to help ensure exceptional customer service and take advantage of sales opportunities. Self-service applications allow customers to do routine tasks at their convenience. A flexible UC system helps ensure customers always reach the right person at the right time, using their preferred method of communication—phone, email or Web-based chat. A virtual contact center helps companies leverage at-home agents for increased coverage and lower costs.
The San Francisco Giants is one organization that invested in the downturn to improve customer service and streamline communications. The Giants rely on a ShoreTel UC system for communications and use ShoreTel Contact Center for ticketing, sales and customer service. "The Giants were seeking a state-of-the-art communications system that would transform the way our front office staff, the media, and our fans connect at AT&T Park. The ShoreTel system will help us all communicate more efficiently, provide enhanced capabilities for our staff and luxury suite patrons, and ensure the safety of our fans," said Bill Schlough, CIO, San Francisco Giants.
UC can help your company retain the best workers.
Improving productivity has been the watchword of this recession. Retaining the best employees as the job market improves means giving them the tools they need to be highly effective in their roles. Investing in UC does just that, as it puts communication at their fingertips for more effective and convenient collaboration. With ShoreTel, users can easily manage communications from their computer, and seamlessly move between video, voice (wired or wireless) and instant messaging. Person-to-person video calls are easy and affordable. With ShoreTel Converged Conferencing, workers can easily turn a voice call into a full Web collaboration session at the touch of a button, and make audio conferencing, desktop/application sharing, virtual meeting rooms and online presentations a part of their everyday workflow.
Integrating UC into key business applications also boosts productivity. For instance, integrating a customer-relationship management system with the call center put customer information at agents' fingertips, which in turn makes agents more responsive and effective. ShoreTel is based on open standards to integrate with leading CRM systems, including Salesforce.com, NetSuite and Microsoft Dynamics. Integration between ShoreTel and IBM Sametime or Microsoft OCS also makes it simple for workers to collaborate and stay productive, whether working with fellow employees or external partners.
The City of Oakland in California improved responsiveness to its constituents and boosted worker productivity after deploying a ShoreTel UC system. Integration between ShoreTel and the City's call-accounting software means it can charge back telephone costs and bill individual departments for toll charges. "The ShoreTel system is flexible enough to integrate with our call accounting software and create any kind of report we need whenever we need it," said Robert Glaze, the City's CIO. "The integration possibilities are interesting, considering how flexible ShoreTel is."
UC can help your company simplify IT.
No doubt about it, cost pressures are ongoing. But IT can do more with less by untangling the complexity in their applications and communications systems. The ShoreTel UC system is easy to administer. Adds, moves and changes—a pricey activity with TDM PBXs—are easy, fast and highly affordable. When you invest in a UC system that doesn't add complexity to the network, you streamline communications as well as IT operations. With those resources freed, IT can work on projects that generate business value.
Many companies face integration challenges after a merger or acquisition. The ShoreTel solution integrates easily with other systems, so organizations may use their existing phone systems where it makes sense, and roll out ShoreTel as time and budget permits. ShoreTel lets organizations of all sizes deploy UC at their own pace.
For example, Ready Pac replaced a patchwork of PBXs inherited through two company acquisitions with a ShoreTel system. Communications are integrated across all locations, and the phone system significantly easier to manage. "Our three main criteria for comparison were cost, reliability and ease of management," said Jim Lyle, communications manager at ReadyPac. "ShoreTel's low total cost of ownership clearly demonstrated that ShoreTel was the best investment to meet our requirements."